Gospel Project: Unit 11
Description: Solomon ruled Israel with great wisdom that God had given him, and he obeyed God when he built the temple. Despite his wisdom, Solomon sinned and his sin led to the nation of Israel being divided into two kingdoms. Solomon reminds us of our need for Jesus, the sinless King who is true wisdom. (1 Cor. 1:30)
Key Passage (memory verse): For the Lord gives wisdom; from His mouth come knowledge and understanding. He stores up success for the upright; He is a shield for those who live with integrity. Proverbs 2:6-7
Big Picture Question: Where does wisdom come from?
(Wisdom come from Go though His word)
Activity directions from Wednesday, Oct. 5: During our class we created a booklet for the kids to use as a daily journal. We encourage them to write a journal entry or draw a picture about what they have learned about wisdom each day. Below are verses they can use to help them in their journaling.
List of Proverbs:
Proverbs 4:23
Proverbs 4:24
Proverbs 10:1
Proverbs 11:13
Proverbs 14:21
Proverbs 16:16
Proverbs 21:1
Proverbs 25:21
Proverbs 27:12
Example Devotion Book: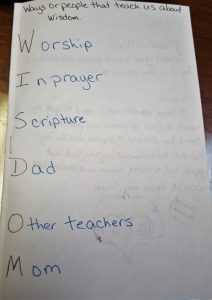 Look for new activities coming soon!